Journalism is a noble profession which entirely focuses on the truth of a matter that somehow raises a public interest and for the betterment of our society. But often the power of journalism has been misused to attract audiences to a special matter or some special personality and intrigue the masses to put that special cause under a grim light.
The same appeared to happen to the English star all-rounder of ICC World Cup 2019, Ben Stokes. In a published paper from 'The Sun', the paper took a dig at Ben Stokes family matters, concerning his parent and a tragedy that according to cricketer happened almost 31years ago but he never talked about it in public. Stokes reacted to the incident in a firm way by stating that the story to be 'the lowest form of journalism'.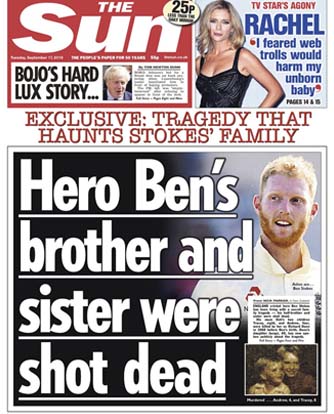 Stokes mentioned in a letter posted on his twitter handle, how this has been completely inappropriate for the paper to make something so personal to him and his family; a tragedy that have been kept private to cope with the circumstances; and make it a matter of public interest. He also alleged that the facts provided by the newspaper had "serious inaccuracies which has compounded the damage caused", which was used with his public image to draw attention to the matter with severity.
17 September 2019
'The Sun' have responded to the matter by saying that they have utmost sympathy for the Stokes family, but the story was written only after coordinating with one of the family members, and was published keeping in mind the publicity it is evident to receive being published on the front page, after it was informed to the Stokes family and they never spoke anything about not publishing the article.